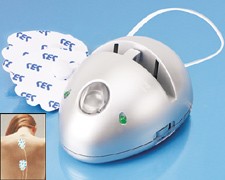 Masssage Mouse
The perfect way to relieve muscle tensions and pain...
For the first time you can now get the same electronic muscle stimulation technology used in your doctor's office - delivered directly to your home. Why spend $70 per hour to see a physical therapist when for under $50 you can own the Massage Mouse?
Multiple combinations of massage sensations with variable frequencies.
Intensity can be adjusted using dial switch.
Durable massage pads.
Automatic turn-off after 1 hour.
Battery lasts up to 2 months (battery is included).
"Mouse ears" for reading support (document holder).
"Mouse ears" are removable for portability.
Included In Each Massage Mouse Order:
A Massage Mouse control unit.
"Mouse ears" for reading support (document holder).
2 pairs of massage pads (one pair large and one pair small).
A 9-volt battery.
Operation Instructions.
2 Year Limited Warranty.
---
---
---
Please consult with a health care professional before starting any supplementation program. The information contained on this site is general in nature and Company does not take any responsibility for any errors that may appear. Company has made every attempt to make the information as accurate as possible. However, Company does not warrant its accuracy. Please note that the statements on this web site have not been evaluated by the FDA.
Copyright 2004, Company