Massage Mouse -- At-Home Hands Free Massager!
Do you have stiff neck, back pain, or sore muscles?

Massage Mouse can help! Try Tui-Na Ancient Chinese massage in the comfort of your own home!

Massage Mouse provides relaxation and deep soothing massages to your muscles. You can relieve muscle tensions and pain within 20 minutes!

Why pay $70/hour for a session to a massage therapist when you can get instant massages in the comfort of your own home? You will be amazed by the massage sensations produced by this cute-looking "mouse." It feels like the fingers of a real Chinese massage therapist applying "Tui-Na" massage techniques on your muscles. You have to try it to believe it!

Unlike other handheld massage instruments, Massage Mouse is "hands-free." You apply the massage pads to your body, turn on the switch, and Massage Mouse does the rest. You do not have to tediously roll any massage ball on your body or painstakingly bend your arm so that your vibrating massage instrument can reach the aching muscles on your back. You just relax and let Massage Mouse work your muscles. This is how massage is supposed to be - pleasant and relaxing!

Massage Mouse has a computer chip that is programmed with multiple bio-electrical signals. These signals are sent out in phases with variable speeds (from slow to fast) to produce the best massage sensations. There are so many combinations of signals that it keeps you guessing on what's going to come next. Getting a massage from Massage Mouse is not a boring routine. It is an "adventure" that you are going to enjoy every evening, after a day of hard work. You can also enjoy massages while typing, studying, watching TV, or traveling.
Product Background
| | |
| --- | --- |
| Massage is a very important therapy in traditional Chinese medicine. It has been created and developed by the Chinese for centuries in their fight against muscle tension and soreness. In order to turn this traditional therapy into an easy means of self-treatment, a team of scientists specialized in Acupuncture and Meridian System started a program to develop this bio-electricity simulating massage instrument. | |
| | After years of hard work, model JQ-1 (Massage Mouse) was completed. This new model embodies a combination of the Traditional Chinese Medicine theories on meridian channels, the advanced theories of physiology and pathology, and the technique of modern electronic simulation. The researchers studied the massage techniques of tens of senior massage specialists in China and made a number of sample analysis to find the most effective massage techniques. From their analysis, they produced a series of modulated bio-electrical signals through electronic simulation. These signals have characteristics of human muscle electricity, which, when applied to proper parts of human body, could produce an effect similar to that caused by manipulation of a massage specialist. |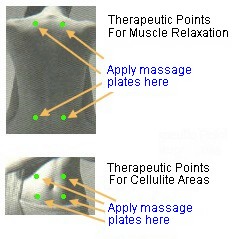 Helps to relieve minor muscle aches and pains.
Adhesive massage pads produce kneading and tapping sensations for muscle relaxation.
"Mouse ears" can be used as a document holder.
Designed for computer users, office professionals, athletes, students, travelers, and anyone who performs tasks with fixed bodily position.


This mouse-like massage instrument can also be your office companion. Its "mouse ears" can be used to support your document when you are reading or typing. Talk about multi-tasking, this mouse has it all!


Multiple combinations of massage sensations with variable frequencies.
Intensity can be adjusted using dial switch.
Durable massage pads.
Automatic turn-off after 1 hour.
Battery lasts up to 2 months (battery is included).
"Mouse ears" for reading support (document holder).
"Mouse ears" are removable for portability.
Some of the massage points we recommend are shown below. However, the application of Massage Mouse is not limited to the massage points shown below. You can apply Massage Mouse anywhere on your body (avoid the heart area).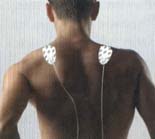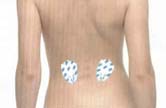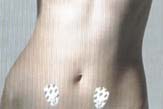 Avoid applying the massage pads near the heart, above the neck, on the head, in the mouth or pubic region, or over scars.
Avoid touching the massage pads directly with fingers when power is on.
Pregnant women should avoid using this massager.
Patients who use a pacemaker or life support equipment, such as an artificial heart-lung devices and respirators should avoid using this massager.
Keep out of reach of children.
Do not open the chassis of the control unit.
Consult with your doctor before using Massage Mouse if your have:

Skin problems
Acute disease
Malignant tumor
Infectious disease
Cardiac dysfunction
High blood pressure
High fever
Included In Each Massage Mouse Order:
A Massage Mouse control unit.
"Mouse ears" for reading support (document holder).
2 pairs of massage pads (one pair large and one pair small).
A 9-volt battery.
Operation Instructions.
2 Year Limited Warranty.