Frequently Asked Questions
on the Massage Mouse
How does the Massage Mouse differ from those hand held vibrating massage wands?
The Massage Mouse uses electronic muscle stimulation to provide a deep muscle massage. This is the same technology used by Chiropractors and Physical Therapists when they treat muscle soreness and back pain. By providing electronic stimulation to the muscles, you can achieve a much deeper massage than you could by just physically massaging the muscles.
Vibrating massage wands, while fun to play with, do very little to relieve muscle soreness or pain. Simply put, they do not have the power to provide a significant massage to the muscles. In addition, they are not programmed to replicate the Ancient Chinese Massage of Tui-Na. For these reasons, the Massage Mouse is a better choice to provide relief from muscle pain and soreness.
Electricity in the muscles? Is that safe?
Yes! We know it sounds a little scary, but remember this is the same technology used by medical professionals. The Massage Mouse runs on one 9V battery and even at its highest setting is very safe. There are a some people who will NOT want to use an electronic muscle stimulator. Patients who use a pacemaker or life support equipment, such as an artificial heart-lung devices and respirators should avoid using the Massage Mouse. In addition, pregnant women should not use the Massage Mouse.
If you have any questions about using the Massage Mouse with your specific medical history, please consult your Doctor.
Is it hard to use the Massage Mouse?
No! You basically stick the "mouse paw" pads to your muscles and turn the unit on - that's it! The unit comes with a manual that shows pictures of popular pad placements, but basically you can put the pads where ever you have muscle pain or soreness.
Each Massage Mouse comes with 2 sets of pads - small and large. If you need to massage a small muscle (such as on your feet), you use the small pads. If you need to massage large muscle groups (such as back muscles), you use the pair of large pads.
How long will the pads last?
Under normal use, the pads will remain sticky and effective for about 2 months. Once the pads lose their stickiness you can simply order another set of pads (we have them available for $9.50 a pair - Click here to order).
In order to maximize the effectiveness and longevity of the pads, please apply a little water to the pads before sticking them on your body. Here is picture of the pads...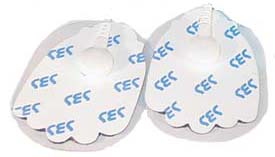 Can I use the Massage Mouse while I'm in the office?
Yes. One of the things we love about the Massage Mouse is it is portable and hands free. If you sit at a desk all day, you can quickly apply the pads to your back and give yourself a great back massage while you continue to work. In fact, as I write this web page, I am receiving a great back massage from the Massage Mouse... feeels goooood!